Here is another review from the 2017 Best Construction Blog entries.
Nigel Costolloe's Catchlight Painting blog captures just the right tone to convey the Newton, MA residential painting contractor's business.
It takes a?thoughtful and subdued, yet incredibly clear tone and makes clear the contractor's values, approach to business, and residential-only focus.
When you read the blog you'll know quickly that you won't expect the cheapest job in town; but you'll receive both care and service and the company will keep its promises, especially in historic renovations and Environmental Protection Agency (EPA) lead mitigation requirements. And if you make an appointment, the estimator or painter(s) will show up on time.
Here, for example, is a post describing how Catchlight meets the EPA lead challenge.
The EPA rolled out new regulations in 2010 designed to protect the occupants of homes where lead paint is being disturbed.? Referred to as the RRP rule, or Renovate, Repair and Painting rule, these regulations affect any work performed in a house built before 1978 ? in Brookline that means 90% of the housing stock!
I?ve included 2 photos here of the level of protection we put in place before disturbing old layers of paint.? This is not a Catchlight-exclusive process, simply our implementation of the protocols required by RRP.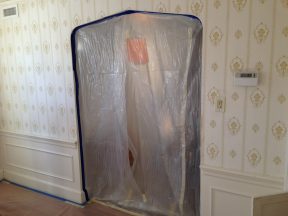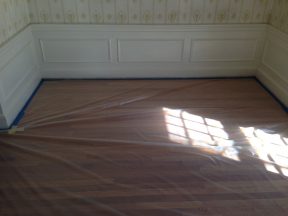 I've writen about these regulations before, in this post, and we think they are an indispensable part of our daily operations, not just for our clients but also for our employees.? A friend recently sent me this quote from an email she received;
After a number of disappointing meetings with painters, I am looking to all of you experienced Newton moms! We need to paint some areas of our older house which may have lead paint. The painters we have spoken to seem to fall on extreme ends of the spectrum (it is no big deal and we don?t need to do anything special to deal with the possible lead or we need to do full lead testing and deleading). Do any of you have experience with a painter who was able to take care of an older house in a careful and thoughtful way? Any suggestions are greatly appreciated!
Needless to say, deleading is not necessary if lead is present, nor is full lead testing using a certified inspector and X-ray fluorescence.? We simply verify the presence of lead using an approved 3M lead test kit available at most hardware stores; once the tester confirms the presence of lead we assume a lead risk is present and proceed accordingly.
The blog also shares good news about other businesses and people in the community. This spreads the good-will and of course helps cement and improve relationship and referral-building for the business.
Overall, I think you'll be impressed by this blog. You may gain some ideas for how you can expand and build out your own business as a result.
Voting in the 2017 Best Construction Blog competition continues until March 31. You can vote for as many blogs as you wish, but can only vote once.